Author: Jenny Davis, Communications Director
Shocking News Reports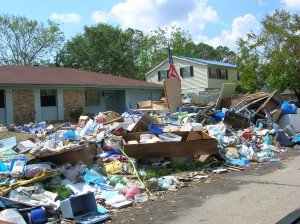 When Katrina made landfall in the Gulf Coast, 10 years ago today, I was a middle school teacher in Fort Worth, Texas.  I had recently spent a week serving in New Orleans with my local church, helping a church in Aribi with their outreach VBS and ministering with Greg Hand, the new pastor of a church called Vieux Carre Baptist Church in the French Quarter.  I walked into the lunch room of my school, and on the screens I saw men and women, up to their waists in water, making their way across the city.  I saw families being rescued from their roofs by helicopters, and individuals boating to safety around collapsed bridges.  I stood there, paralyzed, overwhelmed, and at a loss for words.
The next few weeks would be a terror for the city.  The storm caused damage to the compromised levies holding back the massively huge Lake Pontchartrain, and completely flooded the below-sea-level neighborhoods of the 9th Ward.  Entire communities along the Gulf Coast were destroyed and so many people were displaced.  We now know that around 1,800 people were killed by the damage caused by Katrina.
Our local church, like many others, organized a recovery team to travel to Louisiana and help gut houses.  Many of the houses had 3 or 4 feet of water damage, so "gutting houses" basically meant helping the homeowner to sort through belongings and carry all the destroyed items out to the curbwhere it would be carried away by bulldozers.  We spent a weekend gutting houses in Slidell, Louisiana, just north of New Orleans, and found out that that the National Guard was allowing individuals back into the city that day so we drove into New Orleans to attend church with the fellow believers that we had met on our initial mission trip a few months earlier.
There are usually two bridges, one each direction, traveling across the massive Lake Pontchartrain from Slidell into New Orleans.  However, as we drove across one remaining bridge into New Orlean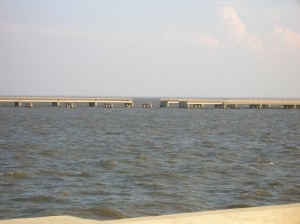 s, which had been converted to a two-way bridge, we noticed that the parallel bridge was missing entire sections.  Up in trees we saw boats, house pieces, and even dead animals as we solemnly drove into the city.
The city was empty.  We saw very few signs of life in a place that is typically vibrant, loud, and full of people.
We drove directly to Vieux Carre Baptist Church, and arrived in time for their Sunday service.  We foun
d Pastor Greg and his family there alone, and they greeted us warmly.  They shared with us the church would be their temporary home… that Hurricane Katrina had blown the
ir home off its foundation and left them with nothing.  We worshiped together that Sunday morning in a very broken New Orleans, and my husband and I knew that God had given us a responsibility to be part of helping our friends and their neighbors to recover from this destructive storm.
Urban Mission Teams
A few months later my husband and I organized the college ministry of our church to travel to New Orleans to join with the efforts of Vieux Carre Baptist Church and Campus Crusade.  We recruited and led teams of young people with a heart for helping others in their time of need.  Some of the work needed to be done by professional demolition teams, or reconstruction experts, but we found that God was using His people to come in and encourage the people of New Orleans.  Its an amazing thing, and one that is often written about, that when people lose everything they often realize what is truly important.  We learned many life lessons during that time from individuals who were just thankful to be alive.  Just thankful that their kids got to safety.  Just thankful that they lived to see another day.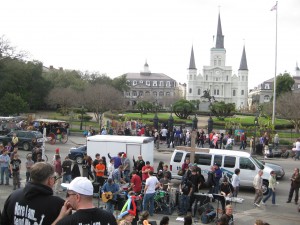 Beyond just the "gutting houses," we also sent young people to do an outreach in the French Quarter, an area largely undamaged by Katrina because it wasn't in the path of the broken levies.  We set up 8-foot tall panels in a highly traveled area of Jackson Square with questions written on them to inspire discussion.  Our students stood near the attention-grabbing panels and looked for opportunities to talk with people about their experiences with the recent storm, and to talk with them about their relationship with Christ.
We met people from all over the United States.  While many locals had evacuated and had not returned yet, there were many others who came looking for jobs with the demolition and construction companies.  There were also many new non-profits who were recruiting young people to move to New Orleans and start helping with the recovery.
10 Years Later
Much will be written and said about the rebuilding of New Orleans.  Each person involved has their own personal story and there is no shortage of opinions and plans for what New Orleans should continue to grow to become.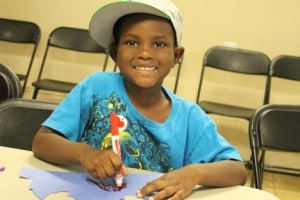 Today we will reflect on the effects of Hurricane Katrina, and we especially mourn with those who lost friends and family to the storm.  We know that God is at work in the hearts of people in the city, and we are thankful for the ministry of Vieux Carre Baptist Church, Grace Bible Church, the New Orleans Rescue Mission, and so many of our friends who make New Orleans their home and do their part to invest in the lives of the people around them, and through them, the unique city of New Orleans.
We hope you will take the time to watch some of the footage about the recovery in New Orleans, and pray for those who are brothers and sisters in Christ there.  Please pray that many would come to know the Lord, and that there would be a revival in the hearts of New Orleanians as they reflect on what God has done these past 10 years.
Please also consider coming to serve with Kaleo Missions this year to see for yourself what God is up to in the lives and hearts of the people of New Orleans.
Sincerely,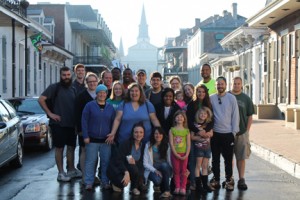 Jenny Davis
Kaleo Missions